College Scholarship Program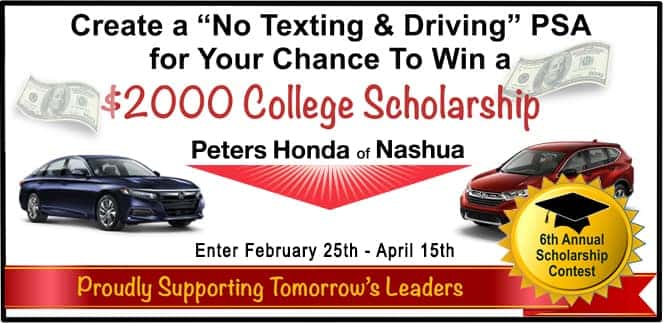 Peters of Nashua announces their 6th Annual "Peters of Nashua Scholarship Contest", open to all graduating high school seniors living in New Hampshire and Northern Massachusetts. This year we would like you to create a public service announcement about the dangers of "Texting and Driving".  To enter, please create your choice of the following formats:
:30 Original Video
:30 Original Audio
Original Poster (Poster must be at least 9"x11" in size.)
Peters of Nashua reserves the right to post your PSA on their website or at their Peters Honda, Peters Nissan, Peters Auto or Bump Clinic Collision Center locations.
Please submit your PSA to "Peters of Nashua Scholarship Contest 2019", C/O Peters of Nashua, 300 Amherst Street, Nashua, NH 03063, or email your entry to inhousemediapartners@gmail.com no later than April 15th, 2019.  If you are mailing your entry, please place your video clip, audio clip or poster entry on a thumb-drive. We are also happy to receive your original poster art via mail, or as a clear picture of your poster emailed as a jpeg. If your poster is selected, we request you provide your poster so that it can be displayed at our Peters of Nashua locations.
All entries must include the name of the high school you attend, your phone number, your home and email address, as well as the name and address of the college you will be attending.  Peters of Nashua will select 3 winning entries.
1st Prize          $2,000 Scholarship
2nd Prize         $1,500 Scholarship
3rd Prize         $1,000 Scholarship
All scholarship winners will be notified by phone or in writing no later than May 10th, 2019. All video clips, audio clips and posters will become the property of Peters of Nashua and will not be returned.  Scholarship checks will be mailed directly to the college you will be attending.  All mailed entries must be postmarked no later than April 15, 2019 to qualify.  Please contact Pam Ryan at inhousemediapartners@gmail.com with any questions.